Swaps
Secretly Stitched in Greece is hosting an
8

2

European Fabric Swap
. Groups of 8 will swap an eighth of fabric. More details can be found in the
Flickr group
. I'm excited to join a European group because we pay so much less for shipping over here! I always feel badly for those shipping from America because it can be pretty expensive. She has also arranged discounts with 2 different fabric shops!
The Modern Brick Swap
hosted by Stitching@theGreenDesk is now taking signups. There is a predetermined color scheme and you send in (28) 5"x10" "bricks." The colors this time are rich, saturated and very spicy!
Fabric Scrap Swap
is in Round 5 and taking signups until July 18. Participants will swap at least 1 total yard worth of scraps greater than or equal to 2.5" and no handmade extras required. Time to get that
Gumdrop
or
Ticker Tape
quilt finished!
Super Swaps
, a Flickr group, has between 4 and 6 swaps per year. August participants will be swapping pouches (zippered or not) or fabric baskets. The deadline for signups is July 30th and the mailing cut-off is Sept 5.
Secret Tote Bag Swap
(STBS) is currently taking signups for Round 5 until July 19. Round 5 has participants making the
Noodlehead 241 Tote
. I haven't made a 241 tote yet, but
here's one of my faves
.
Lynn H. is hosting a
Facebook-based swap
featuring
LilysQuilts
:
LynnBobSquarePants
quilt block. You pick a partner and swap one block each month.
Linky Parties
Drowning in Fabric
is hosting a new linky party called Saturday Swap. You can link up anything you've received or given lately. This sounds like fun!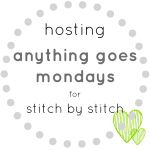 Red Delicious Life
is hosting
Anything Goes Mondays
linky party where anything goes. ;)

Nini & the Sea
is hosting the Weekly Inspiration linky in which participants can link up anything!
Sew Fresh Quilts
has a regular linky party on Wednesdays and that's where I found many of the new-to-me blogs mentioned here today!
Quilt Story
hosts
Fabric Tuesday
each week. I was lucky enough to be featured today, so I hope you check it out!
New Blogs to Follow:
In addition to the blogs listed above, I've also discovered:
Jennifer Jangle
s - lots of fun crafty tutes and great fabric lines
Sing While Crafting
- loved her Schnitzel & Boo Swap
Quilting by Dawn
- great projects